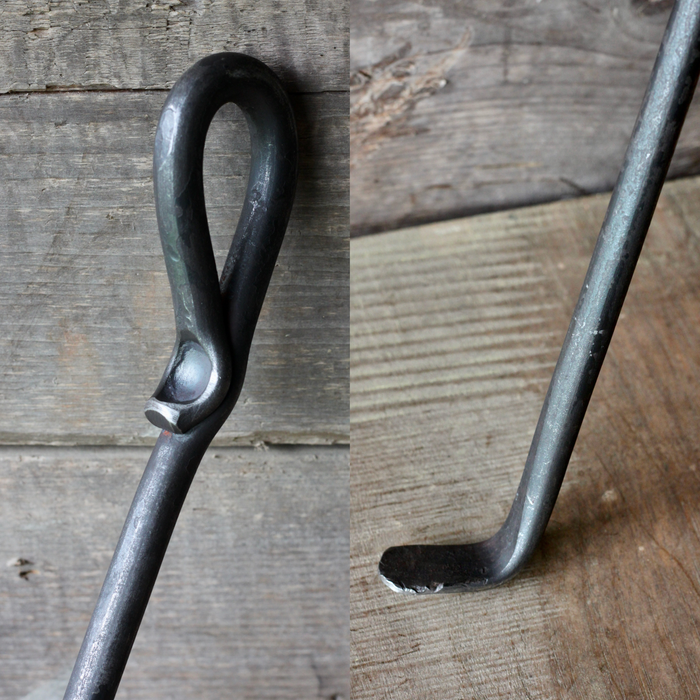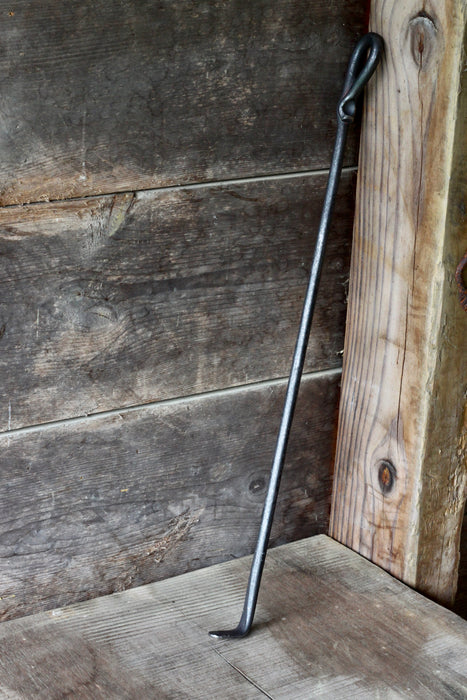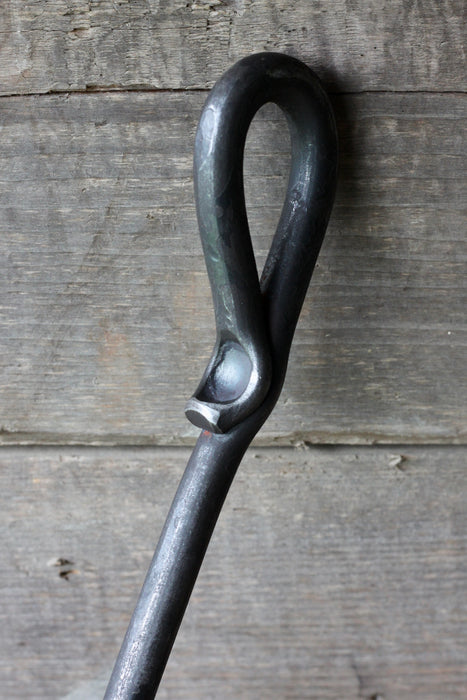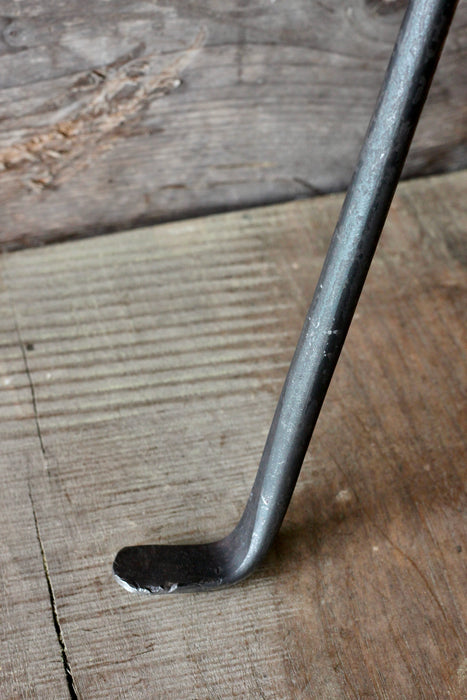 The perfect small-size fire poker for your wood stove.
With an ergonomic handle and 90-degree bend at the working end you'll have surgical precision maneuvering tight spaces and shifting logs, so you can get the temperature just right.
These Fire Pokers are 26" long and have a hand-forged loop detailing the handle, perfect for hanging. 
Each Fire Poker is hand-crafted in Maine using a combination of traditional and modern blacksmith tools and techniques.
We have many fire tools of different lengths and styles available, so please have a look at our other listings to see more options.
Care and use
About the finish
These fire tools are finished in a traditional blacksmith style known as "brushed and waxed." They are first wire brushed to remove forge scale (a thin layer of material that forms on the steel during the forging process), and then sealed with a natural wax finish. This method highlights the natural beauty of the steel surface only achieved through the forging process. 
Outdoor Use
The wax finish is not a paint and should not be exposed to prolonged moisture. If you wish you store your fire tools outdoors, we recommend spraying the piece with a high heat paint such as Rust-Oleum® High Heat Spray Paint obtainable at your local hardware store. This will prevent rust over time (the pieces will still function fine when rusty if you prefer a weathered look). This spray paint can be applied directly to the piece.
Removing rust and resealing the tools
The surface of steel can tarnish or rust over time depending on humidity levels and exposure to moisture. The tools will still function with this surface rust. If you wish to preserve the original look of the piece, surface rust can be removed with a brillow pad, wire brush, or steel scouring pad. Once removed, reseal the piece by rubbing a thin layer of any household oil such as vegetable oil over the newly cleaned surface. 
Love it!
Exactly what I need. Easy to handle. Works very well to maneuver firewood in our wood-stove.
Great fire poker for a small wood stove
We have a small wood stove and most stove equipment was too big to use. The Fire Poker made by Wicks Forge is perfect. Easy to move the wood around in the stove. Glad we got it!
Great product
I was searching for a new poker for my wood stove and discovered the Wicks Forge website. This poker is exactly what I wanted and I am very pleased with it. The craftsmanship is absolutely top quality. It's great to still find hand forged products like this. I have since purchased more items from Wicks Forge and am very pleased with them also. Orders are processed very quickly as well. Highly recommend Wicks Forge.
BEST wood stove poker
This poker has a little 1" scoop at the end which is needed to pull hot ashes forward before reload. So simple,yet so nice.Thanks
The fire poker I've been looking for
Well made and clearly designed by someone who actually uses fire tools, this fire poker is everything you need and nothing you don't. It's lightweight, fits your hand well, very functional for my wood stove, and I love the simple, hand-made aesthetic. Well done!
Wood Stove Fire Poker