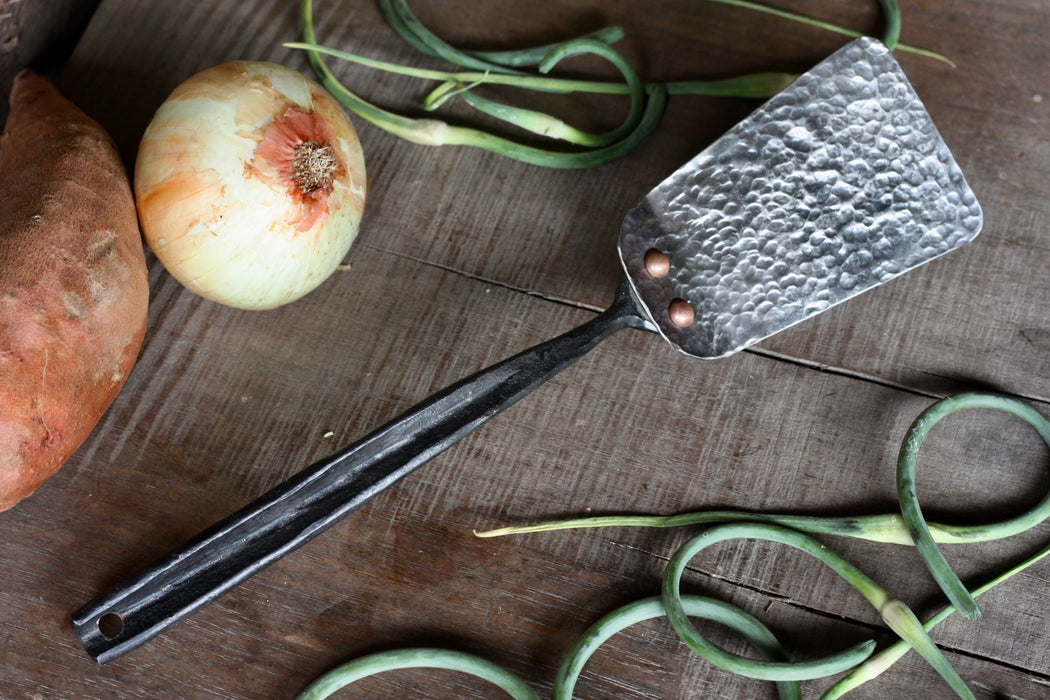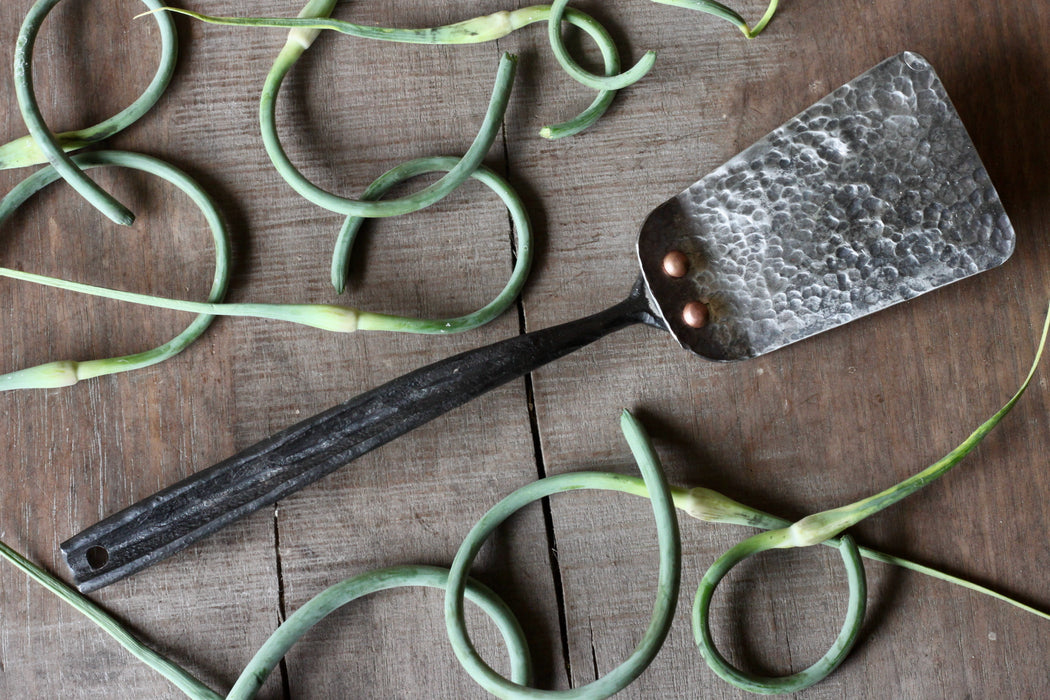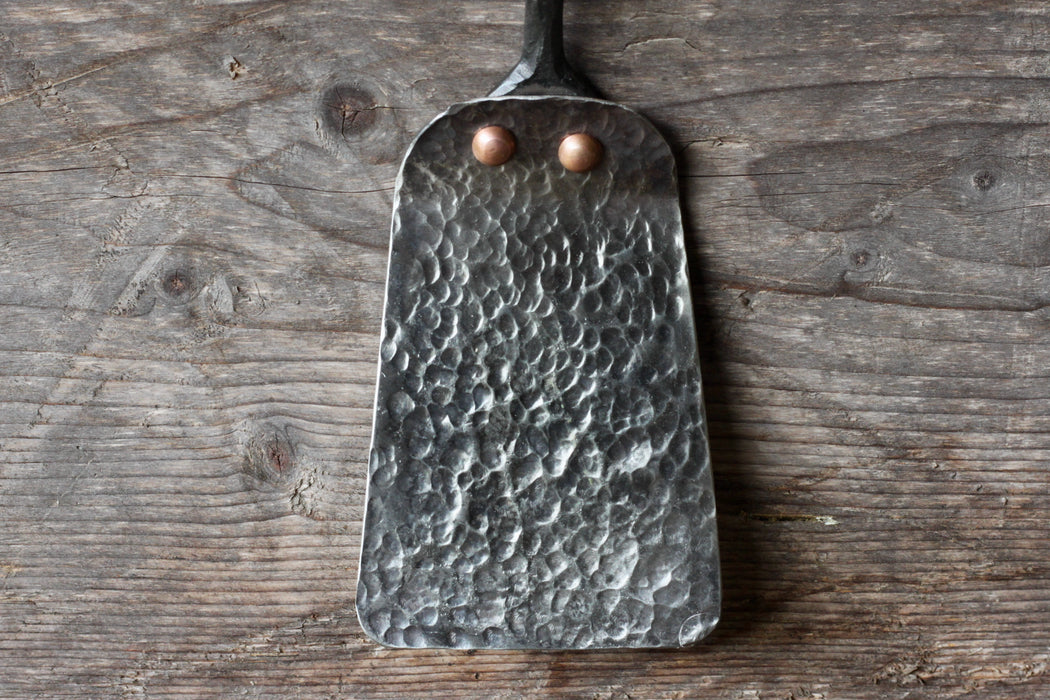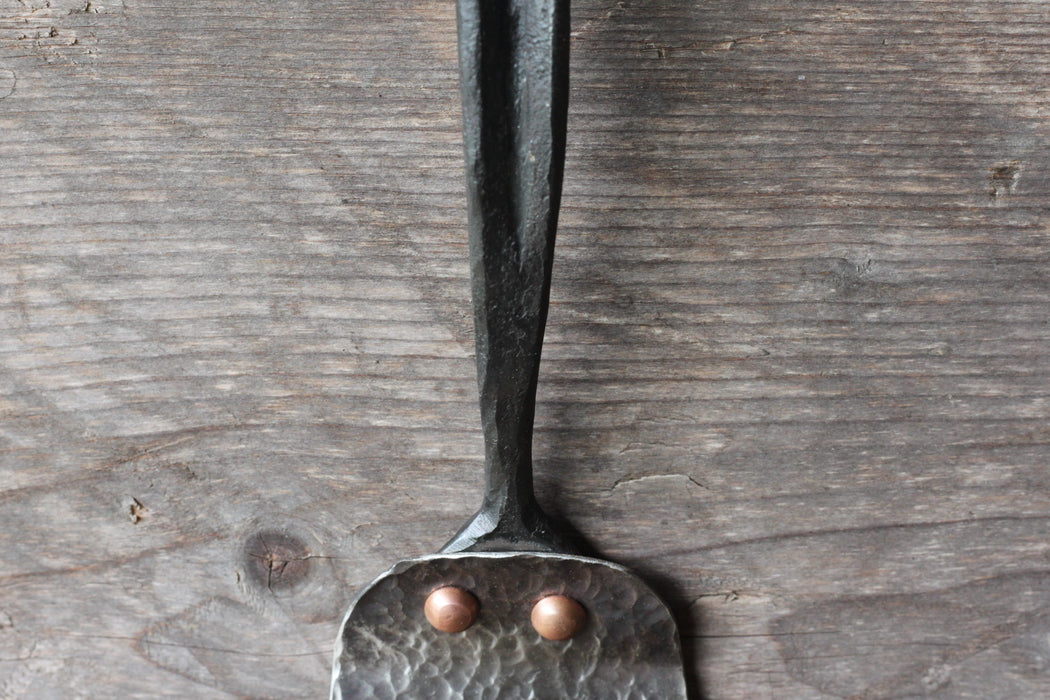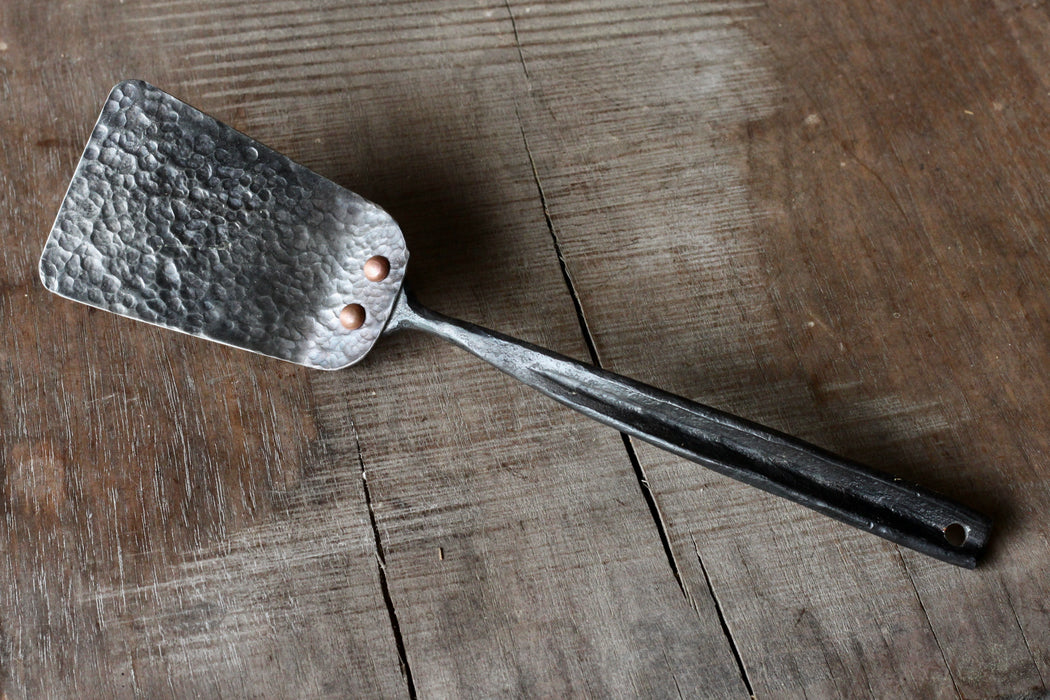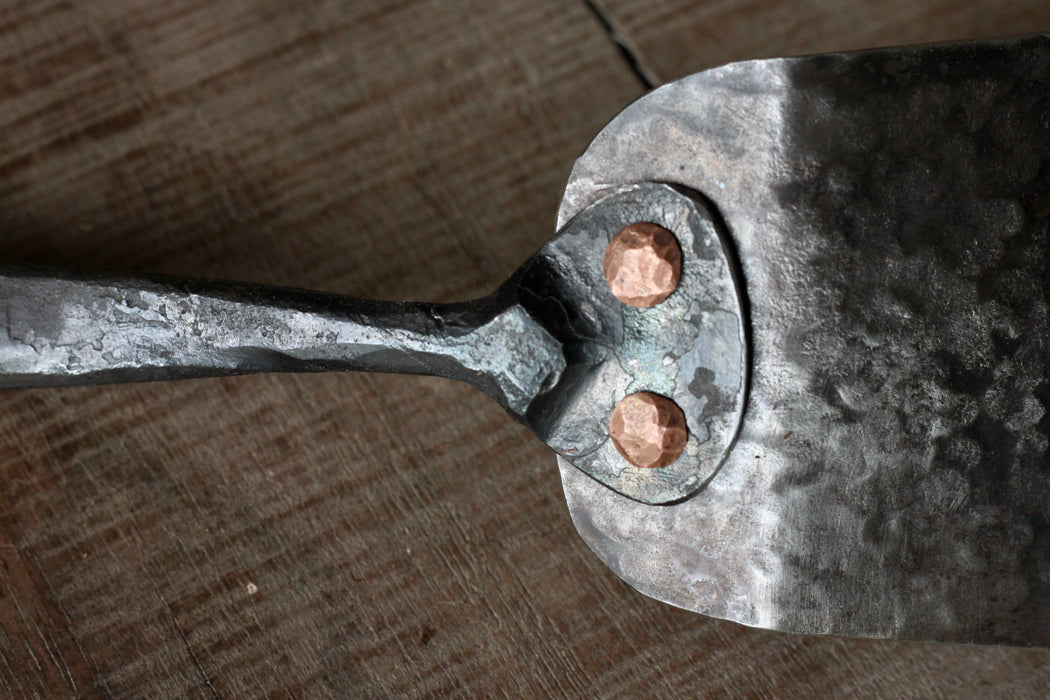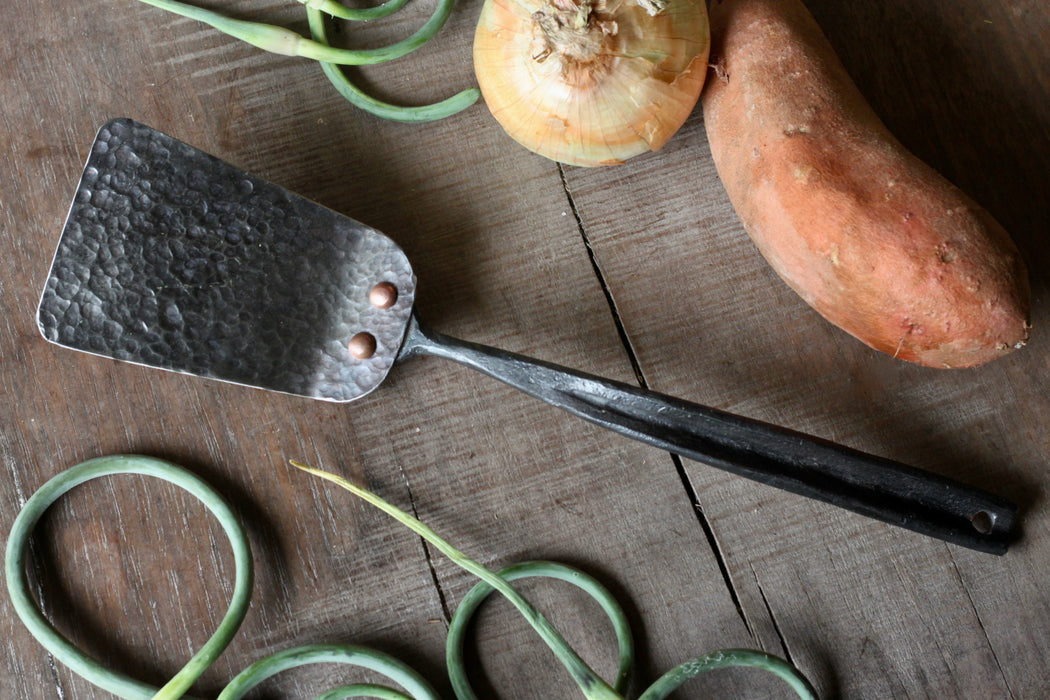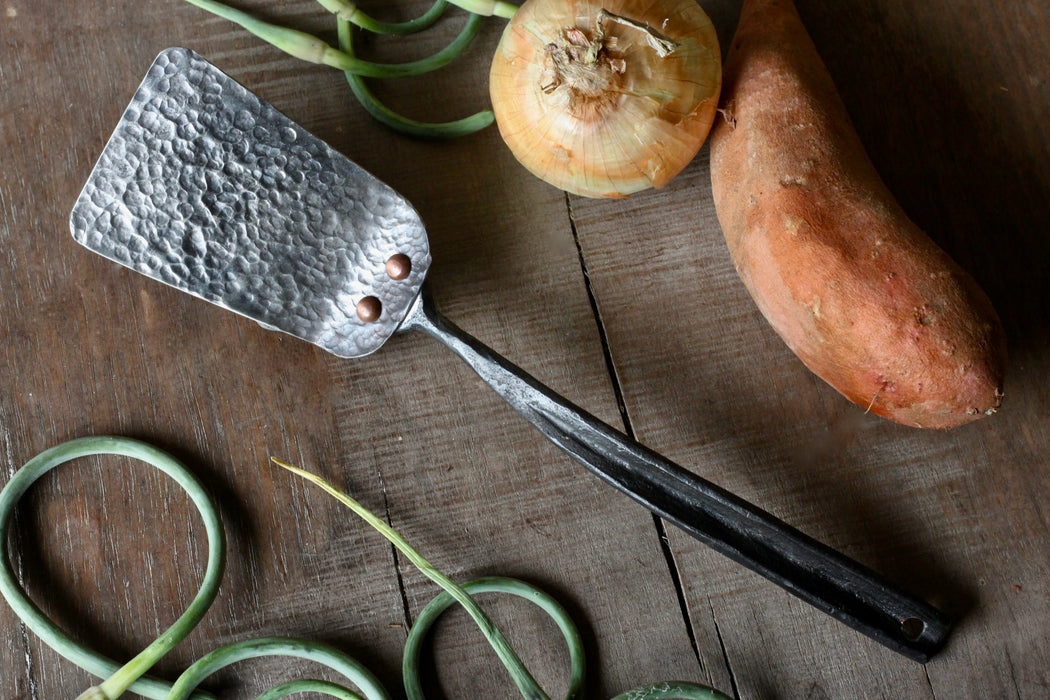 These spatulas are designed for high style with function to match.
The spatula features a textured stainless steel end that's strong, springy, easy to clean, (classy as hell), and perfect for flipping. A true spatula user's spatula.
This spatula is smaller than our BBQ spatula, since it's meant for getting into and around any size pan. When armed with this device, be prepared for surgical-like maneuvering around any cooking surface. The grooved v-handle fits the palm and thumb like a glove. 
The handle is forged steel coated in a natural linseed oil and beeswax finish. Hand wash only. Wash the stainless portion with a gentle soap or use water and scrub the handle when needed. Re-coat with a drop of cooking oil after cleaning. 
Dimensions:
Handle - 7 ½ 
Spatula - 3" x 4"
Total length - 11" 
This product was designed and made by Wicks Forge blacksmith Jonah Lettney-Harvey. See more of his work @maplehillmetalworks.
The Limited Series features new pieces that take a bit of extra time to make or involve new designs and techniques. These pieces can be whimsical, a prototype, or something we've been experimenting with for years, but is not yet part of our normal production catalog.To share these with you, we launched this series of limited run pieces. These items will last you forever! But we may not be making them for very long. 
LOVE IT!
For starters, I love handmade items and this is no exception. The quality is outstanding! It has a nice grip to it, it's not too heavy yet it's a solid piece, You can see all the little grooves from the hammering - it's great, highly recommend!
Fabulous!
We are so pleased with this excellently made, sturdy, and practical beauty. Potentially a family heirloom.
Nifty little pan
I have used my old cast iron frying pans for years-can't beat them for most pan cooking. I love this little pan with the extra long handle and can't wait for you to make a large size.
Christmas gift
This is a gift and has not been received yet. My first impressions are that it is smaller than expected and somewhat uncomfortable in the hand. I hope my husband likes it. It is a handsome item and well made.
Stainless Steel Spatula