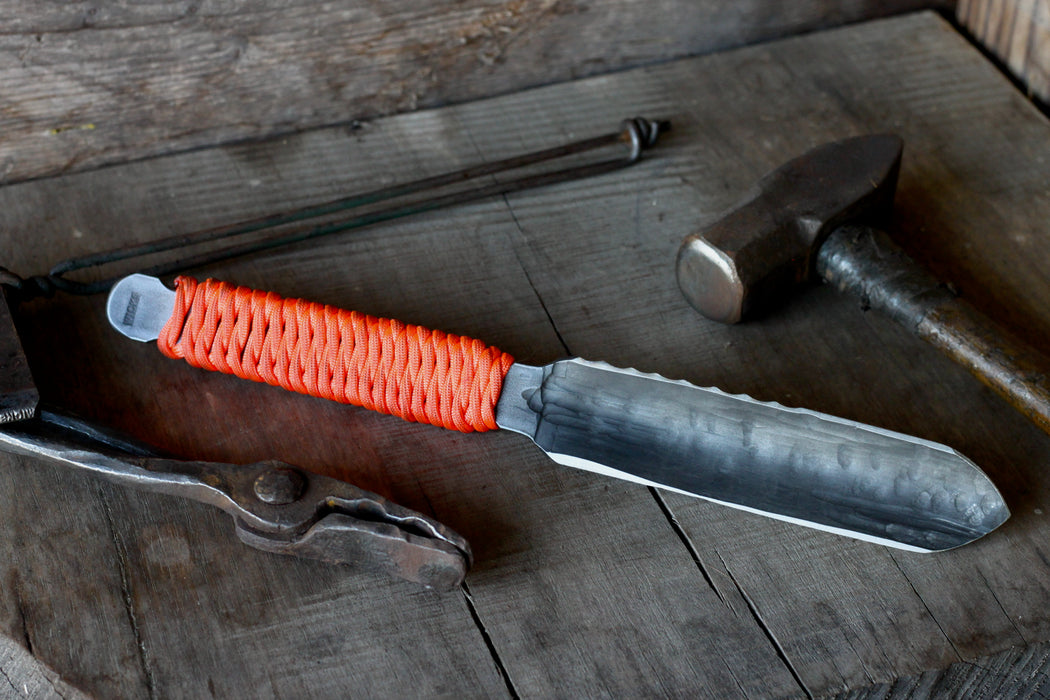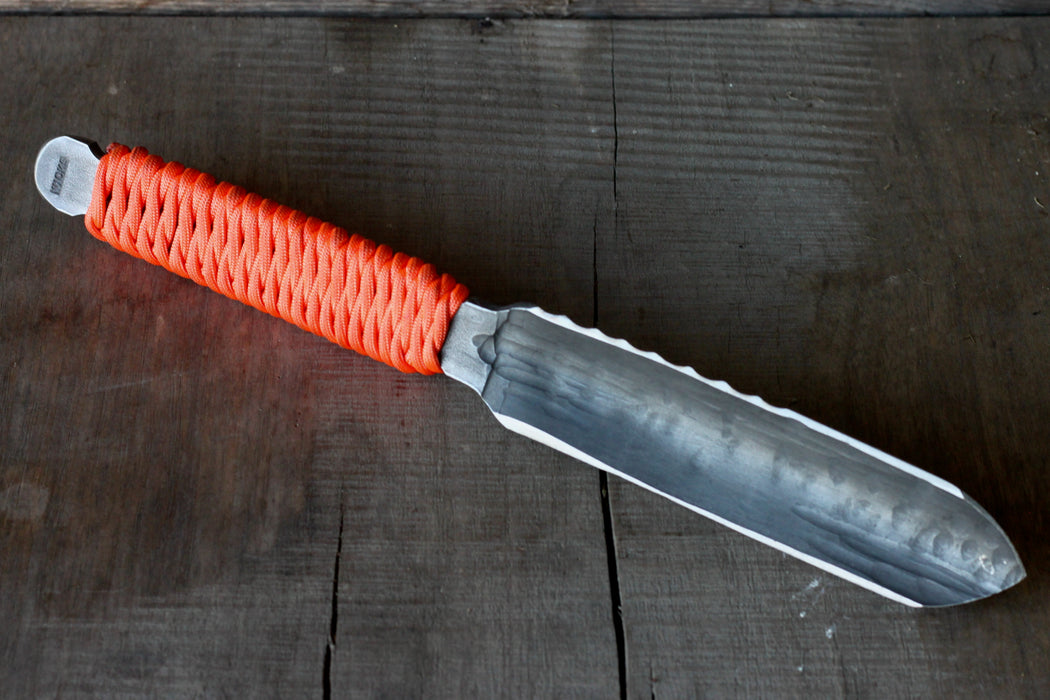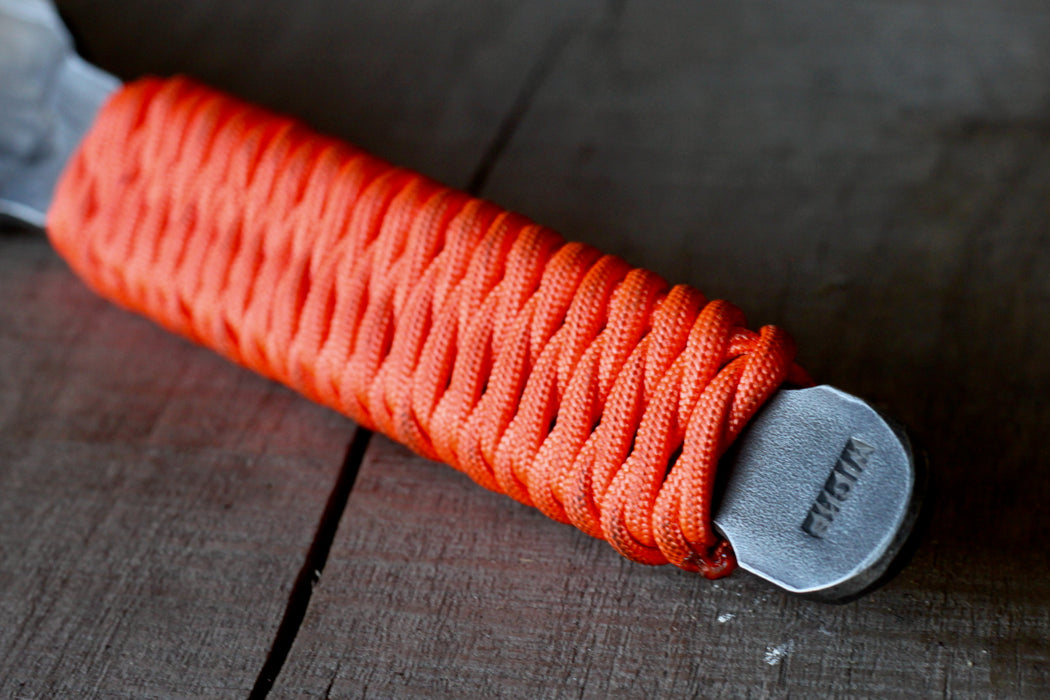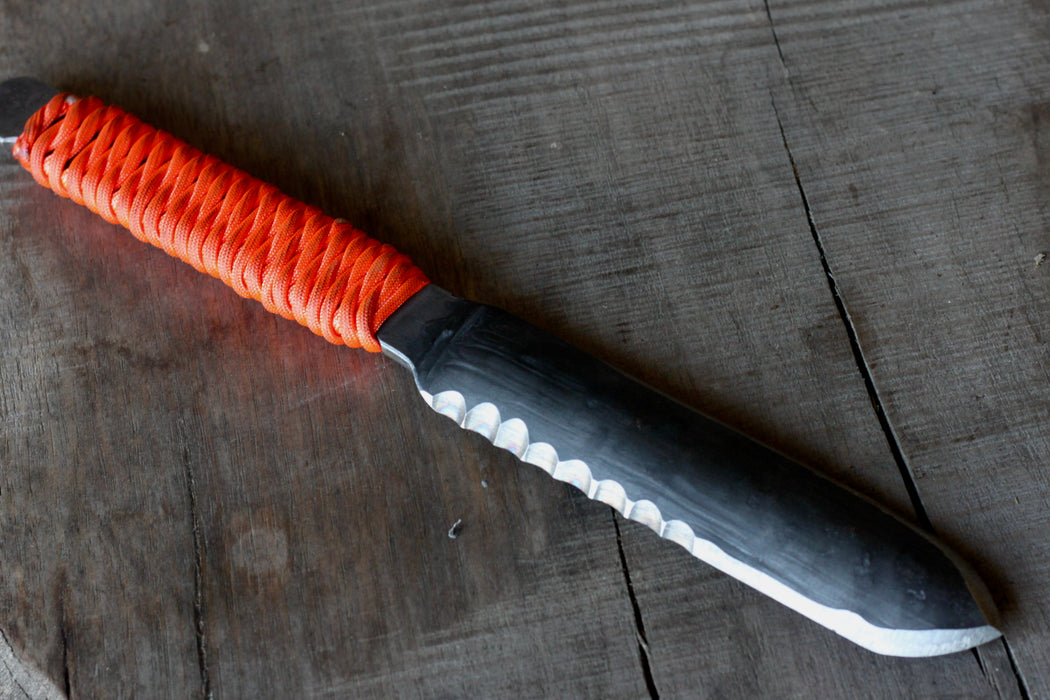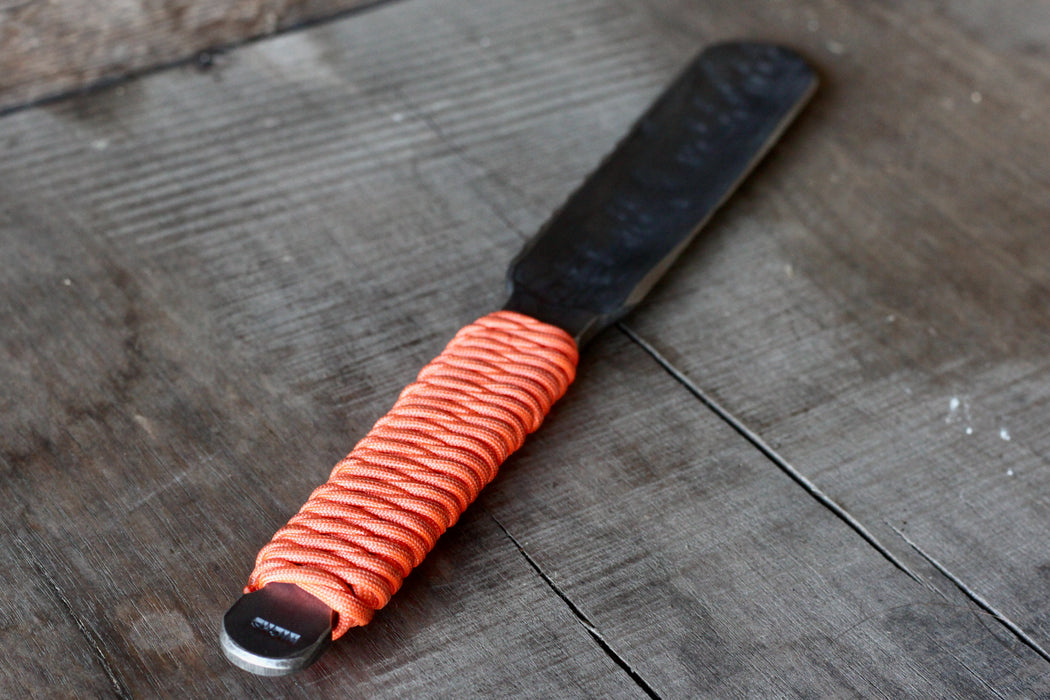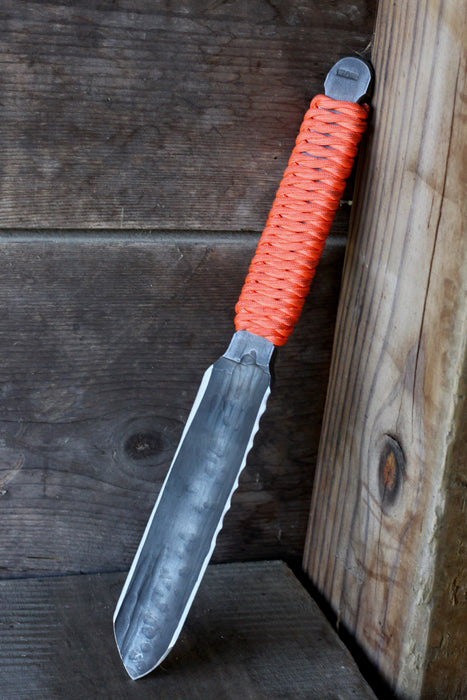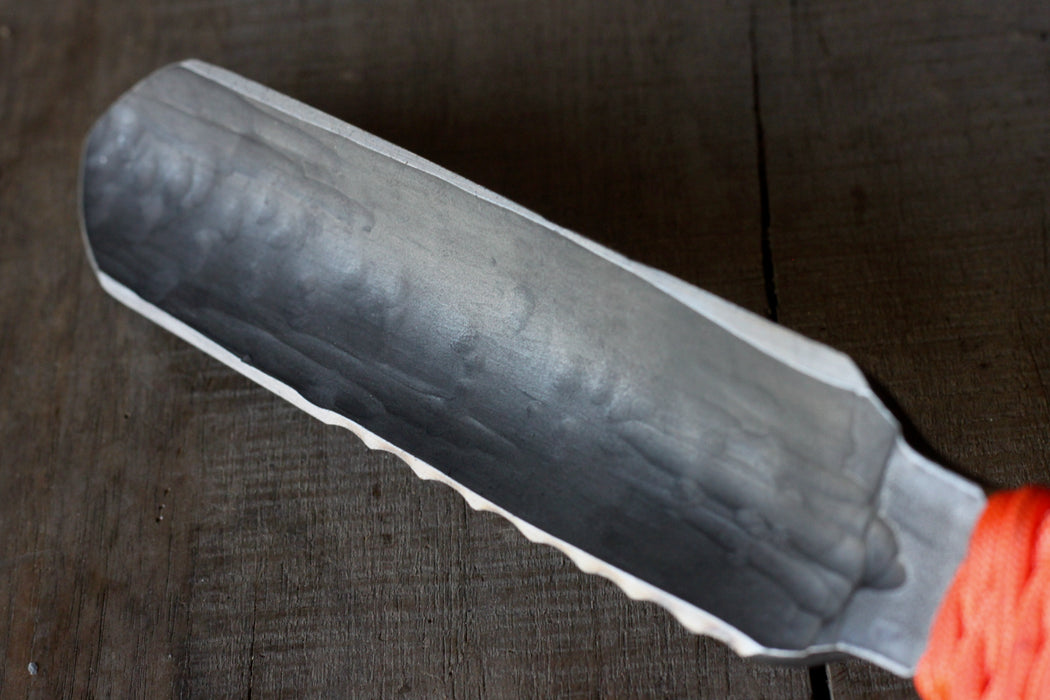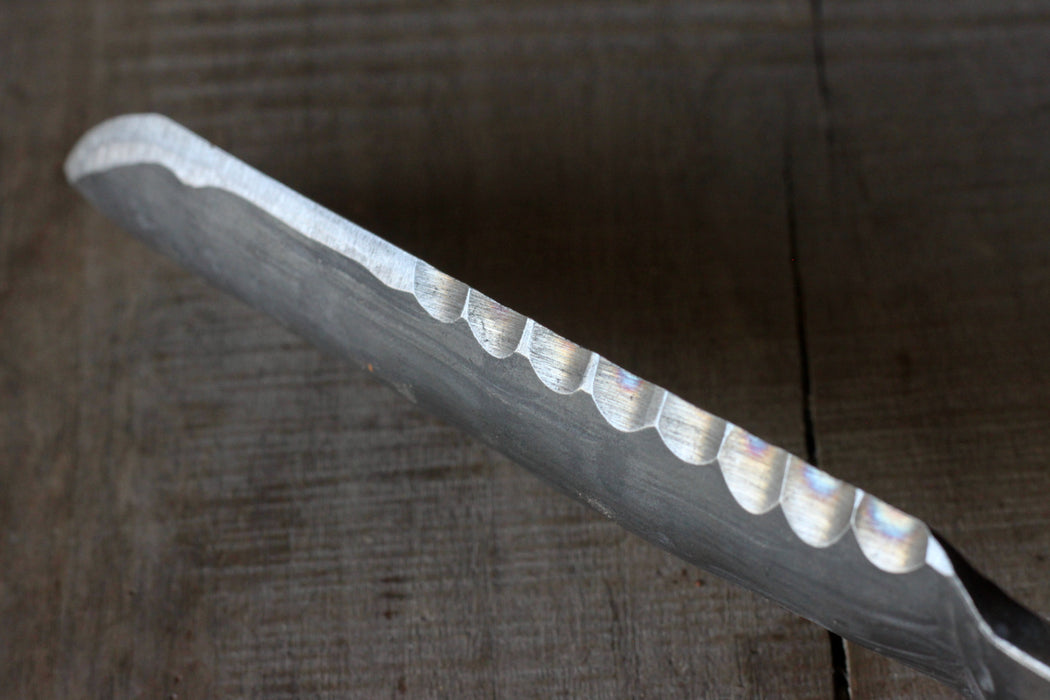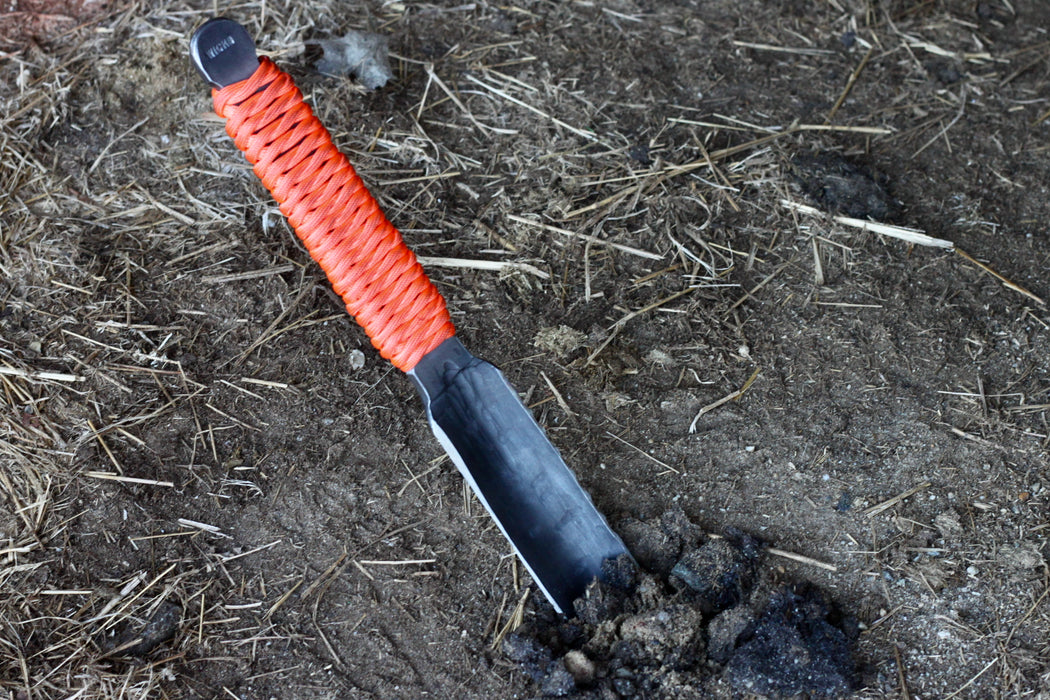 These Hori Horis are made to be your new forever garden tool.
Handcrafted from one solid piece of forged stainless steel, these knives are built to be impossible to break and you'll never have to worry about paint chipping or contracting tetanus from rust.
Having trouble digging through the hard ground? Hit it with a hammer.
Use it to wedge out stuck rocks, or toss it into the ground like a throwing knife (we've definitely tried that here in the shop).
We've added a safety-orange paracord handle to make sure it's easy to find in your tool in the garden or fields, as well as a serrated edge on one side to help with cutting through pesky weeds or cords. 
Each Hori Hori is hand-crafted in Maine using a combination of traditional and modern blacksmith tools and techniques.
Blade Length 7 inches (175 mm)
Blade width apx 1 ⅝" (40 mm) 
Total Length 14 inches (355 mm) 
The Limited Series features new pieces that take a bit of extra time to make or involve new designs and techniques. These pieces can be whimsical, a prototype, or something we've been experimenting with for years, but is not yet part of our normal production catalog. To share these with you, we launched this series of limited run pieces. These items will last you forever! But we may not be making them for very long.
Good quality
Overall, great quality. I recently purchased a barebones hori hori knife and it broke, I was very disappointed.
This knife has a great weight, superior craftsmenship, and I like the bright handle. The serrated blade isn't as sharp as other hori hori knives I have had but it gets the job done.
Not disappointed in with this purchase.
Best In Class!!!
You cannot beat hand-forged! After my wife snapped a $50 Hori-Hori, because it was cast and couldn't handle being used to pry-up a thorn root, I decided to search for a forged tool, and chose this one. Unbreakable! Tough! Only wish it had the 1" markings, but I can add that with a Dremel tool easily enough. This awesome Hori-Hori will easily outlast both of us, and become a classic hand-me-down tool. If you want the best quality, you've gotta pay top-dollar, but this tool will never fail you! And I'll never have to replace it unless lost or stolen!
Premature review but seems great!
I got this as a xmas gift for my wife who loves foraging but snapped her last hori hori in half. She loved it and it seems very high quality and durable!
Master tool
Love it . My principle tool. Will never use a trowel again
Very pleased
I'm a landscape pest control operator. Every year I kill hundreds of ground-dwelling critters under a variety of soil conditions. Every year I'll bend 2 or three hori horis while trying to dig out a tunnel or hole. I doubt that'll happen w/ this tool so I'm quite smitten w/ the purchase and its usefulness so far. I've no doubt these are the strongest hori hori to be purchased w/out hiring someone for a custom job.
Hori Hori Knife