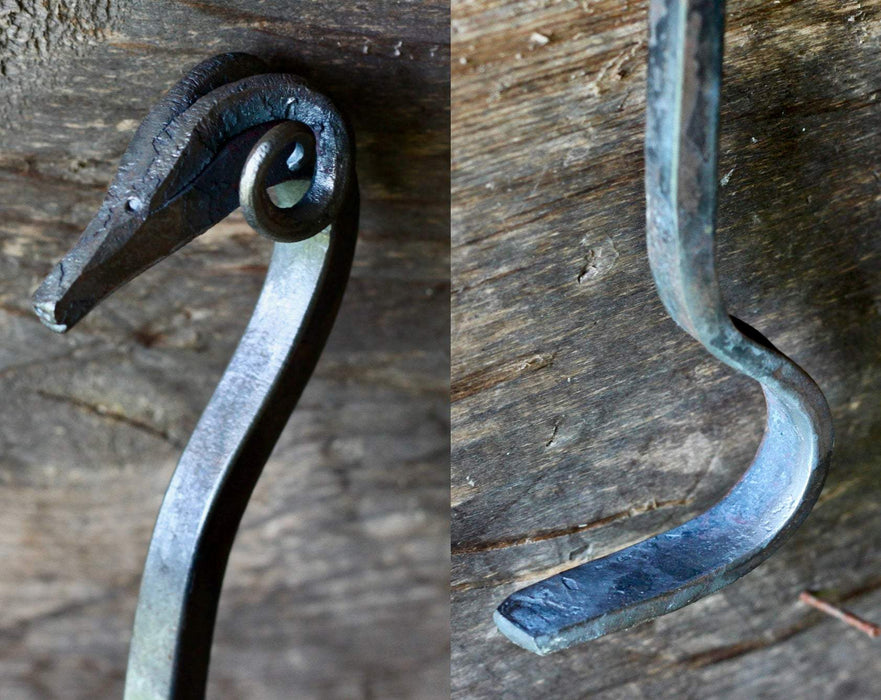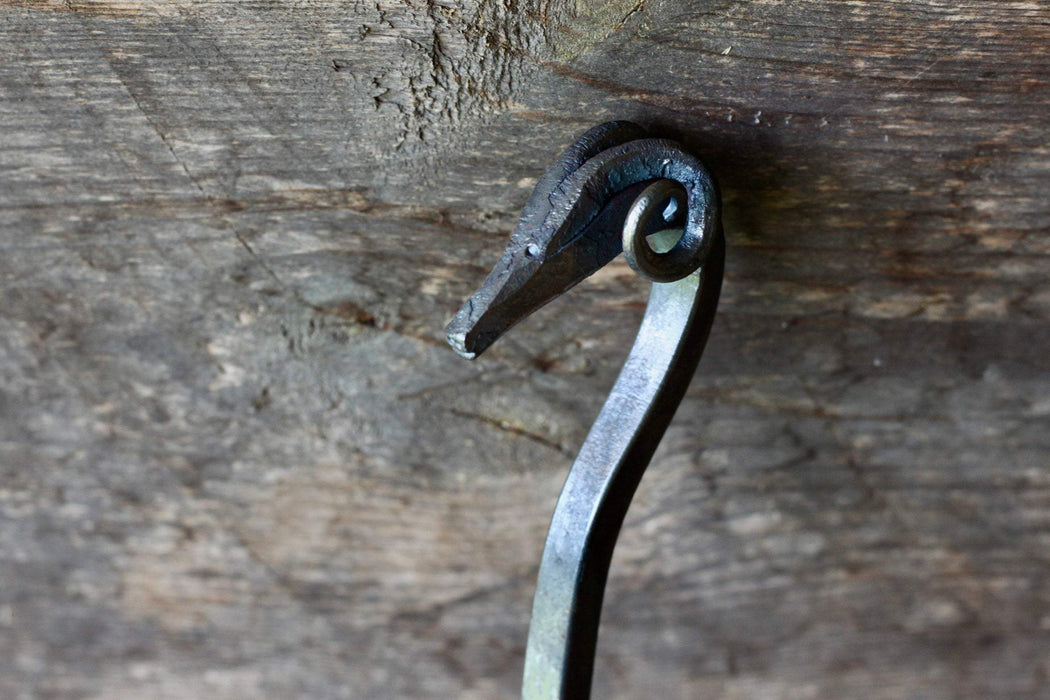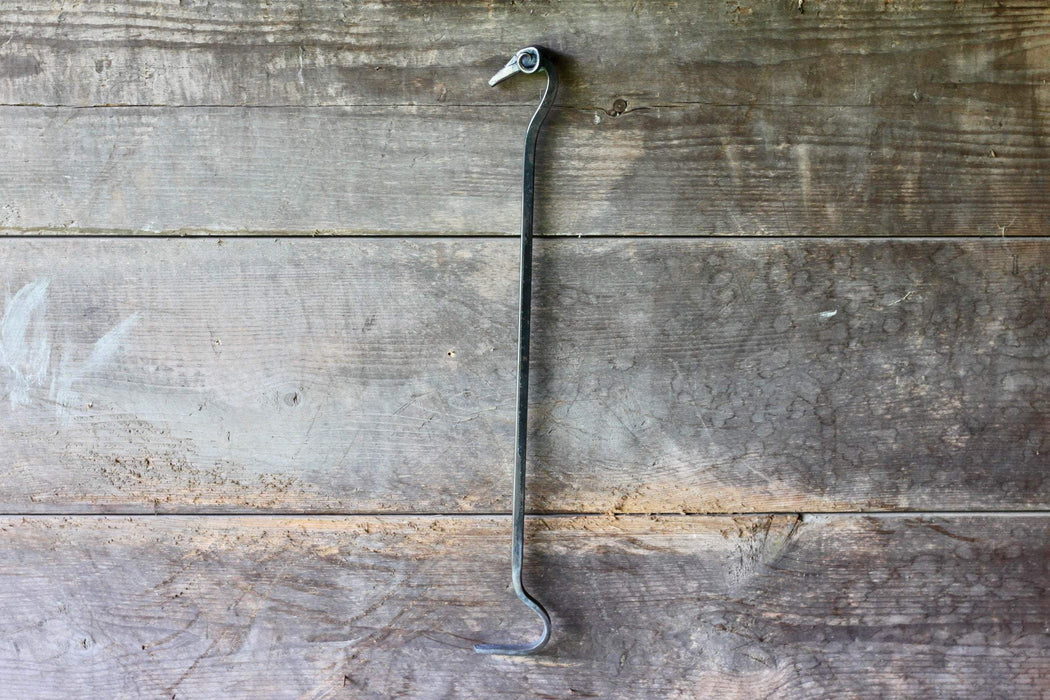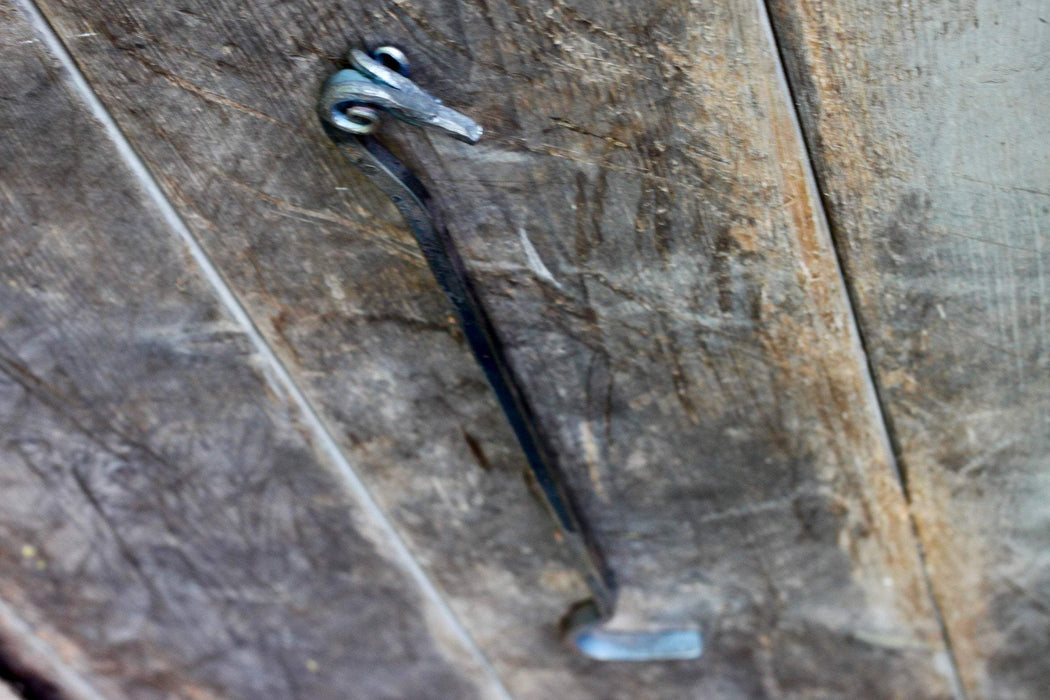 These fire tools have a traditional style hand-forged ram's head as a handle and a curved "L" shape for the tool's working end.
These pokers are nice for a wood stove or small fireplace or fire fit. The fire tools are approximately 26" long and have a wax finish that will help keep the metal protected from rust in an interior setting. These pokers can be used outdoors as well but they will begin to rust if left out in rainy conditions.
Care and use
About the finish
These fire tools are finished in a traditional blacksmith style known as "brushed and waxed." They are first wire brushed to remove forge scale (a thin layer of material that forms on the steel during the forging process), and then sealed with a natural wax finish. This method highlights the natural beauty of the steel surface only achieved through the forging process. 
Outdoor Use
The wax finish is not a paint and should not be exposed to prolonged moisture. If you wish you store your fire tools outdoors, we recommend spraying the piece with a high heat paint such as Rust-Oleum® High Heat Spray Paint obtainable at your local hardware store. This will prevent rust over time (the pieces will still function fine when rusty if you prefer a weathered look). This spray paint can be applied directly to the piece.
Removing rust and resealing the tools
The surface of steel can tarnish or rust over time depending on humidity levels and exposure to moisture. The tools will still function with this surface rust. If you wish to preserve the original look of the piece, surface rust can be removed with a brillow pad, wire brush, or steel scouring pad. Once removed, reseal the piece by rubbing a thin layer of any household oil such as vegetable oil over the newly cleaned surface.
Superior Fire Poker!
Great design and amazing customer service as always!
Handy little tool
I have a 34 inch poker and a Rams head poker. Between the two, nothing in my fire pit can escape my poking around to get a better burn. Also useful in my bbq. The Rams head is longer than expected. Not 18 inches but about 23 inches. Not a problem, might even be better.
Poker
Wonder tool - very happy with quality and workmanship - Many Thanks!
Ram Head Poker
Great craftmanship! It will be well used for years.
Very cool! Bought this for my husband for...
Very cool! Bought this for my husband for Christmas and he loved it! You can tell it is very high quality and seller had quick shipping, even during the holidays! Would definitely recommend this shop!
Ram's Head Fire Poker