Personalized Letter Opener - Loop Handle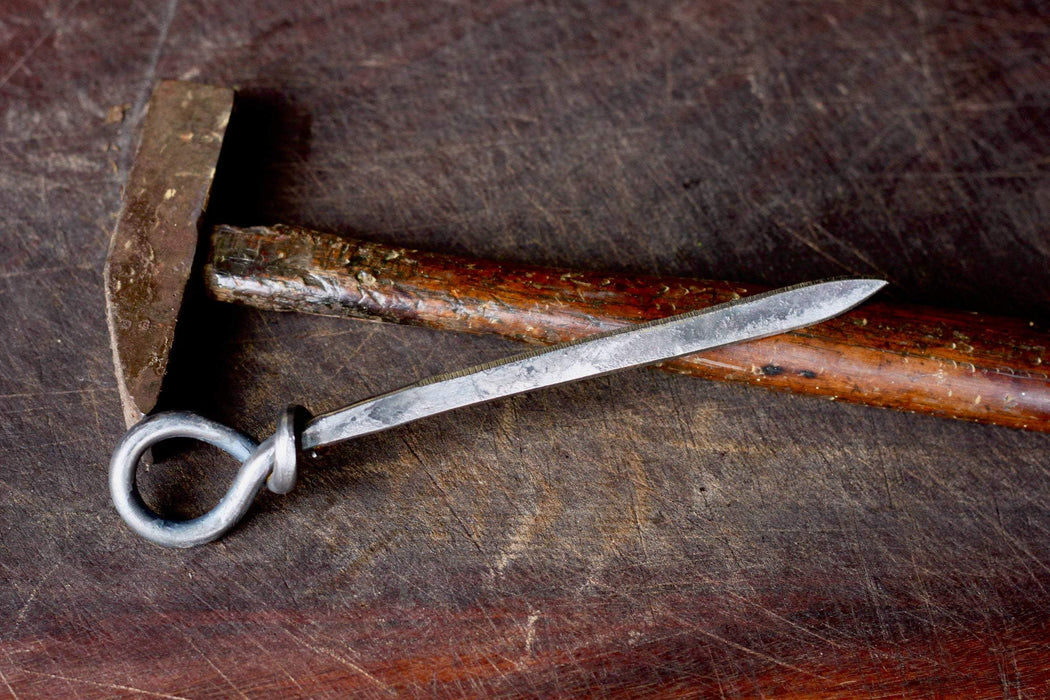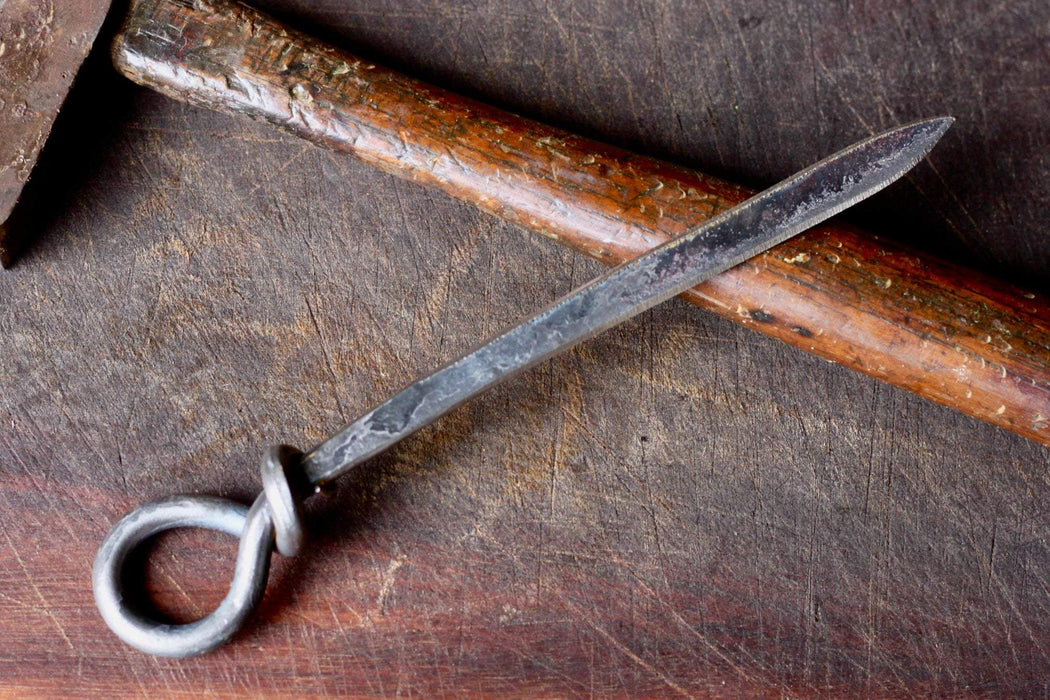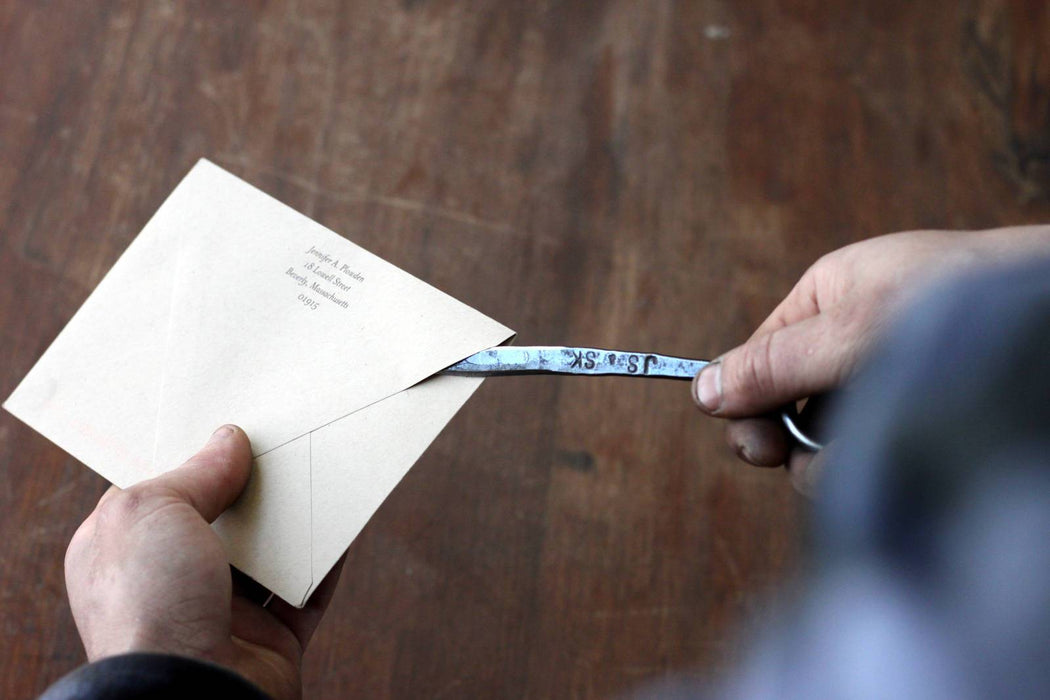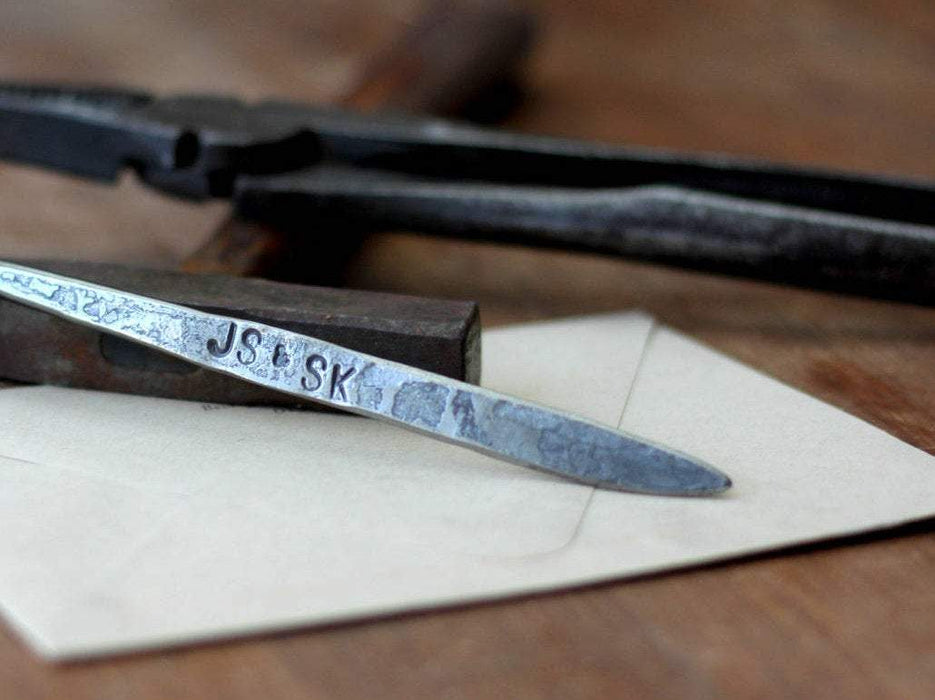 These elegant letter openers are hand forged and are detailed with a wrapped loop on the end.
Each letter opener is finished in a combination of linseed oil, beeswax, and turpentine, which leaves a smooth dark finish on the piece.
These are small letter openers as they measure about 8 inches long. Since each letter opener is handmade, they may vary in size-- however this means your piece is guaranteed to be one-of-a-kind.
They can be personalized with a set of initials, a name, or a short message up to 10 letters. If you select the personalized option, please enter the personalization info in the notes section when checking out.
Forging is the process of heating metal to increase its malleability and then working it in various ways, often with a hammer and anvil. When steel is heated and worked a dark material called scale forms on the surface of the metal. Once the forging is completed, most of the scale is removed through wire brushing the surface. This gives a nice silvery finish, which is sealed with a wax coating.
NOTE: Wicks Forge is moving! We won't be offering personalizations during this transition period. We appreciate your patience and understanding during this time.
Personalized Letter Opener - Loop Handle
Very quick shipping! I asked for this wonderful forged letter opener to have 3 initials put on it. Very nice except I wish the letters had been a little larger. Know my brother is going to love this unique gift! Thanks!
Letter Openers
These are heirloom quality pieces. A pleasure to use!
Personalized Letter Opener Loop Handle
Good Work. It could be a little sharper. Small detail. All in all good piece.
Such a perfect gift!!!
I loved this letter opener, and it was the PERFECT gift (even not-personalized) for Fathers' Day. Lovely work, and a nice sharp edge for easy use. THANKS!!!
Great gift for anyone!
I bought a couple of letter openers as graduation gifts and had their initials stamped on it. They look fabulous!
Personalized Letter Opener - Loop Handle