What American Made Means at Wicks Forge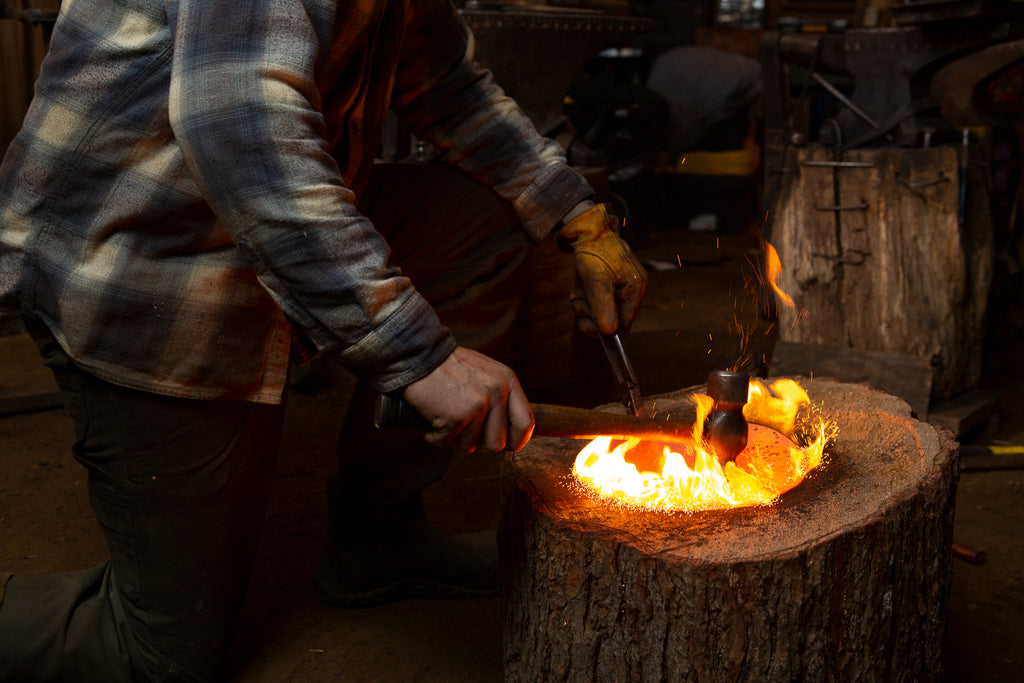 We're not big on catchy phrases here at Wicks Forge. And even though American Made is one that gets thrown around alot, it's worth expanding on what that term actually signifies for a small business like us. Our goal at Wicks Forge has always been to create functional handmade pieces that are accessible to everyone and that informs every aspect of our business— from how we design products to how we produce them, and even which types of products we choose to make in the first place. Everything we do is in service of that goal.
So what does our approach to making handmade, functional art have to do with American Made? 
Unfortunately, the functional aspect of our products means we are often competing against other products that aren't handmade. Instead they're mass-produced overseas and don't always meet the same quality standards to which we hold our own products.
With such considerations, the temptation for Wicks Forge can be to focus on small production runs of products to sell at luxury price points. But that goes against our core mission of accessibility to all. So the problem we run into as a business is how to work at a larger scale when everything we do is still handmade and where the cost of living requires a much higher wage than overseas producers. As demand for our products has grown, this challenge has become even more daunting.
That's where we had to get creative. 
American Made Means Innovation 
My grandfather liked to tell stories. As a kid I would sit across the kitchen table after a family meal and he would lean back in the corner and talk of the times working with his father (my great-grandfather) during during WWII. My great-grandfather ran a welding school in NYC and the whole family worked there to train welders in support of the war effort. My grandfather talked about "Yankee Ingenuity" during that time, and how Americans did their best work when they had their backs against the wall. 
The challenges associated with creating domestically produced and competitively priced metalwork are in no way akin to innovating new technologies in support of a global war effort. But that attitude of innovation is an American trait that guides our business today, just as it did for my grandfather and his father before him.
Whether it's adapting a 150 year old lathe in order to make dies for our 9A pan or taking a brand new handheld rebar cutter and turning it into floor mounted cut-off tool to shave seconds off the time it takes us to make each hand towel holder— at Wicks Forge, we're always thinking outside the box in order to bring our products to life. 
American Made Means Better, Faster
My dad is a carpenter who spent his life building houses across the country from Florida to Alaska. I used to work for him during my summers off from college. He taught me his ethos for building, which is "build better, faster". This goes against some misconceptions in the art world that equate time and scarcity with value and quality. I learned from my dad that if you learn how to work smart, you can work fast, and also create a better finished product in the end.
We've incorporated that philosophy here at Wicks Forge. Every year we look at our product line and find ways to tweak production steps, build custom dies and tooling, and scale up our finishing techniques.
The end result? Each year our products actually get better and we're able to make more of them to share with our ever-expanding community. 
American Made Means Building Community 
When you support Wicks Forge, you also support a host of other American jobs and industries. From our regional steel supplier to the neighborhood post office, Wicks Forge is deeply integrated into, and a supporter of, many other local businesses and institutions.
Most important of all is the human capital we've been able to help get out into the world; so many young artists have spent time honing their skills at Wicks Forge, before going out and starting their own small businesses. These artists in turn teach classes, innovate new products and techniques, and build community ties in their own towns and cities.
The point of all this is to make it clear that when you support Wicks Forge, you're not just getting a sweet ladle or fire poker, you really are supporting all the reasons behind why American Made has turned into a catchy slogan over the years. That sweet ladle or fire poker is really just a bonus!