The Wicks Forge 2022 Holiday Season Essentials List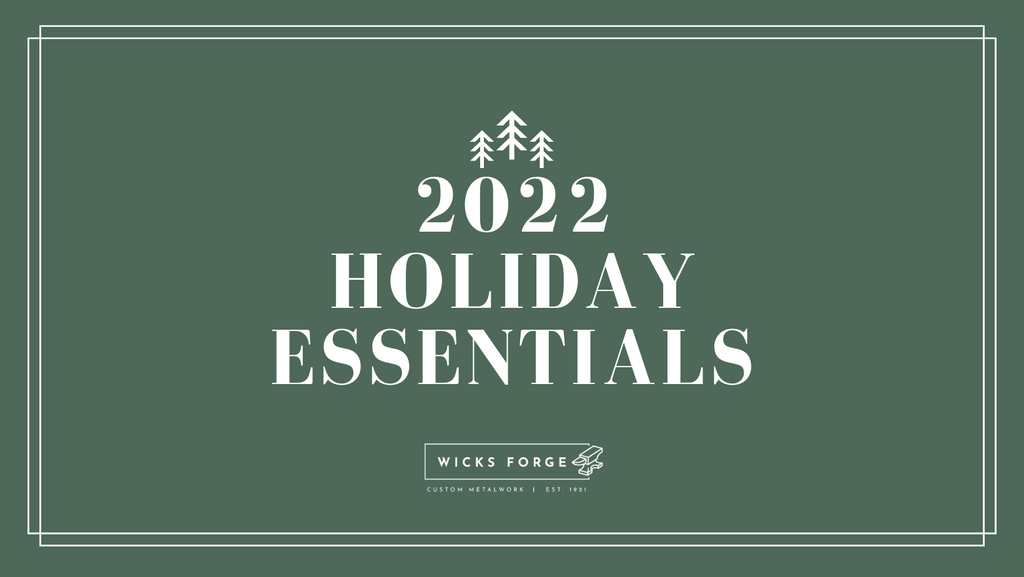 Another year has gone by and we've returned with another list of Holiday Essentials. There's so much joy in the holidays; home cooked meals, warm fires, cozy sweaters, and loving hugs from distant family. 
There's beauty in the handmade aesthetic of blacksmithing that always compliments the Holidays so well. So much time and love goes into making a big turkey dinner, it only feels just to serve the meal up with handmade items.
We're bringing back some of our favorites this Holiday season, but we've also got some new (unreleased) items to spotlight– specially made for these special occasions. 
Keep reading as we breakdown the 10 Wicks Forge essentials for the 2022 Holiday season!
1. 9A Pan
Cooking a big holiday meal is no easy feat. The oven is full the entire day, with dishes being swapped in and out on a strict schedule. All four burners on the stove are in use. Some people even fire up the barbeque! 
Make holiday cooking a breeze with our new 9A Pan. Perfectly crafted and suitable for cooking up any dish– whether it's on the stove top or in the oven. 
Designed in collaboration with real chefs and put to the test by real people, it's sure to be the greatest addition to your arsonal of holiday cooking gadgets. 
2. Stocking Holder
We designed these Stocking Holders to be as easy and painless as possible. 
No more hammering nails into the mantle-- these Stocking Holders are slightly curved to follow along the edge of a mantle and will transfer the weight of the stocking back to the curled top of the hanger.
They simply sit on the mantle and counterbalance the weight of the stocking-- kind of magical, right?
3. Stainless Steel Spatula
If you're one of the aforementioned Thanksgiving day barbecuers, or just some that appreciates a good spatula, we've got just the tool for you. Sturdy as heck and the perfect size for maneuvering any size pan, our Stainless Steel Spatula is the most reliable tool for flipping, slicing, and serving up your holiday casseroles.
4. Napkin Holder
Big holiday dinners can get a little messy, after all turkey and mashed potatoes would be nothing without gravy. Make sure the napkins are displayed in style and within reach for your dinner guests, with these beautifully crafted napkin stands (coming soon).
5. Steel Candy Cane Ornament
These little twisted Steel Candy Cane Ornaments look great on a Christmas tree, but they are also a great detail to add to any decor around your home. Hang them on stockings, garland, wreaths, or anywhere else you can think of!
You can even gift them on their own to your friends, family, and coworkers.
The metal stock is twisted with a drill before being shaped into a Candy Cane and finished with a cute little red bow. It's a pretty cool process to watch.
6. Copper Teaspoons
You asked, we delivered. These are the latest addition to our copper spoon set and we've added unique handle designs to make them extra special. If you're already an owner of our Copper and Steel Coffee Scoop (1tbps), then you'll love this little Copper Teaspoon (coming soon!). If you're not– well then we've got another recommendation for you (check out that listing here). 
Perfect for cooking, serving, stirring, or even just displaying. Who doesn't love a little shine in their kitchenware! 
7. Copper Pie & Cake Server
This Copper Pie & Cake Server is one of our favorites. We consulted many pie enthusiasts when designing it, which allowed us to come up with the perfect shape and sharpened edge for slicing and serving.
It complements our other copper kitchen tools perfectly and adds a nice handcrafted touch to your family dinner. After all, the only thing better than serving up your favorite dessert at a table full of your loved ones, is doing it with a handmade piece that is set to be passed down for generations.
8. Copper & Steel Ladle 
Colder weather also means the season of soups (we love butternut squash). Serve up this meal in style with a beautiful ladle that everyone will ask you about. 
We have two styles to choose from, the Reverse Curl or the more organic Leaf design. Both can be hung by the handle, so you can keep this beautiful piece on display year round. 
9. Copper Wrapped Trivet Pot Holder 
Nothing is worse than ruining your beautiful table setting with rags or cork trivets holding your hot pots. 
These Copper Wrapped Trivets will complement any Thanksgiving or Christmas decor and are the best option for protecting your table.
We have three styles available, so you can choose one style or mix and match your favourites:
P.S. These also make a great gift for the host of your next holiday gathering!
10. Copper Spoon Rest
Keep your kitchen clean and the cooking under control with this beautiful Copper Spoon Rest. It looks great with any of our other kitchen utensils and can be a permanent piece on your countertop, without sacrificing style.
Final Thoughts
For many, the holidays are a time for tradition and at Wicks Forge, we work to craft beautiful items that last generations, so they can become part of those traditions. Whether it's in a meaningful gift, serving up family dinner, or seasonal decor– our pieces are just waiting to become part of the stories told year after year, with the people you love. 
We hope you find that special item in this year's list of essentials and we can't wait for its story to begin when it arrives at your door.