The Wicks Forge 2021 Holiday Season Essentials List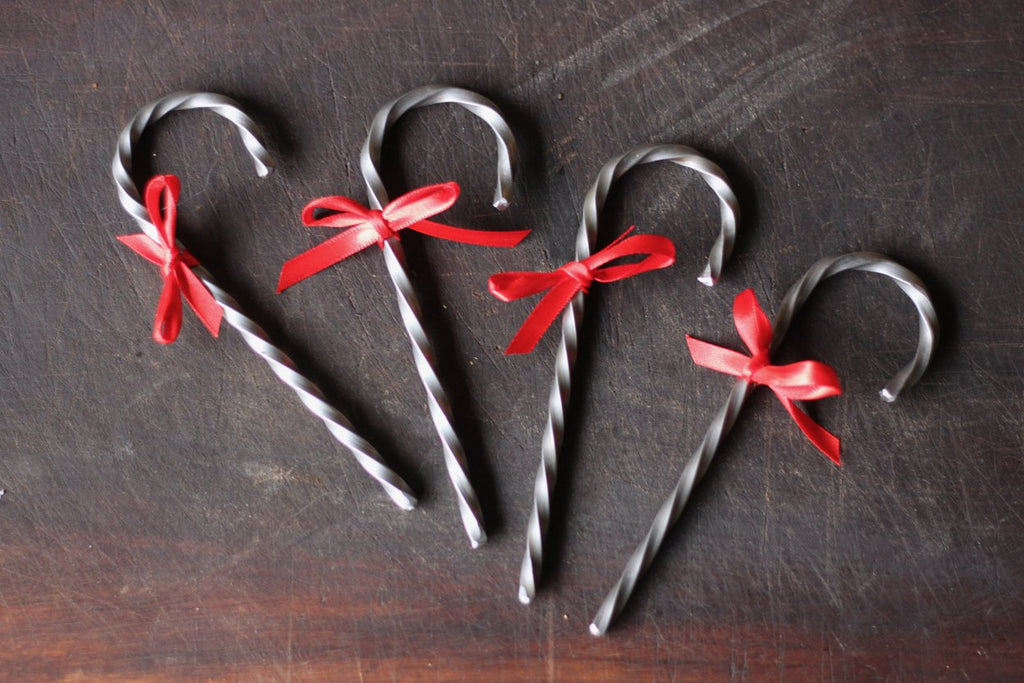 Once the Halloween decor comes down, we know that Thanksgiving and Christmas are right around the corner. These last couple months of the year are a whirlwind of family gatherings, delicious feasts, holiday decor-- and before you know it, we're ringing in the new year.
While this time of the year can be full of joy and quality time spent with the ones we love, it can also be very stressful. Cleaning and decorating the house, cooking and serving elaborate meals, and dealing with your least favourite (see: difficult) relatives, can quickly suck the joy out of the holidays.
Luckily, getting ready ahead of time and tackling your holiday checklist early can eliminate some of the stress leading up to Thanksgiving and Christmas. 
That's why your friendly neighbourhood blacksmith is here to help you do just that!
We've put together a list of our holiday essentials, including everything from home decor, to kitchen and barware-- so you're ready to be crowned the host(ess) with the most(ess).
10 Wicks Forge Essentials for the Holiday Season
Party planning, cooking, gift buying, entertaining... you already have so much to think about when it comes to the holidays. But don't worry, Wicks Forge has thought of everything for you already!
Keep reading to find out our top 10 items to have around for the holidays:
1. Holiday Card Bundle & Letter Opener 

There's no better way to tell someone you're thinking of them than saying it in a card. Even though we can finally get together in person this year, sending a card to important people in our lives is still a staple of the season. 
This year, we're so excited to bring you Holiday cards designed by artist Joan Moreau Mckeever and one of our bestselling Letter Openers.
With this Holiday Card & Letter Opener Bundle, you can choose between 4 styles of letter openers, which can all be personalized with a set of initials, a name, or a short message.
Plus, you get all 3 cards we have available, including:
Nutcracker Family Reunion

Bringing Home the Tree

Colors of Christmas
The art on the front of the card is a gift in itself, which will pair beautifully with the touching message you add to the inside.
2. Copper Pie & Cake Server
Pumpkin pie is a thanksgiving staple, but we're also a huge fan of pumpkin cake-- so why not offer both? 
This Copper Pie & Cake Server was designed with one sharpened edge, so you can cut and serve your dessert of choice all at once. 
3. Heritage Fire Poker
The perfect remedy to the colder months is warm nights around the fireplace with hot cocoa in hand. 
The Heritage Fire Poker is the perfect tool to keep the fire blazing and the chill at bay.
4. Copper & Steel Ladle 
Colder weather also means the season of soups (we love butternut squash). Serve up this meal in style with a beautiful ladle that everyone will ask you about. 
We have two styles to choose from, the Reverse Curl or the more organic Leaf Handle design. Both can be hung by the handle, so you can keep this beautiful piece on display year round.
5. Copper Wrapped Trivet Pot Holder 
Nothing is worse than ruining your beautiful table setting with rags or cork trivets holding your hot pots. 
These Copper Wrapped Trivets will complement any Thanksgiving or Christmas decor and are the best option for protecting your table.
We have three styles available, so you can choose one style or mix and match your favourites:
P.S. These also make a great gift for the host of your next holiday gathering!
6. Stocking Holder
We designed these stocking holders to be as easy and painless as possible. 
No more hammering nails into the mantle-- these Stocking Holders are slightly curved to follow along the edge of a mantle and will transfer the weight of the stocking back to the curled top of the hanger.
They simply sit on the mantle and counterbalance the weight of the stocking-- kind of magical, right?
7. Copper Spoon Rest
Making all of the fixings for a good holiday dinner can be messy-- I mean there's turkey, stuffing, gravy, mashed potatoes, and whatever else your family cooks up.
Keep the mess under control with this beautiful Copper Spoon Rest. It looks great with any of our other kitchen utensils and can be a permanent piece on your countertop, without sacrificing style.
8. Steel Candy Cane Ornament
These little twisted candy canes look great on a Christmas tree, but they are also a great detail to add to any decor around your home. Hang these Steel Candy Cane Ornaments on stockings, garland, wreaths, or anywhere else you can think of!
You can even gift them on their own to your friends, family, and coworkers.
The metal stock is twisted with a drill before being shaped into a candy cane and finished with a cute little red bow. It's a pretty cool process to watch!
9. Keychain Bottle Opener 
If you're looking for a great stocking stuffer, our Keychain Bottle Opener is a no brainer! Why not get one for yourself while you're at it!
It's small and can be added to any set of keys, so you never have to worry about cracking open your favourite beer or soda at the next holiday party
10. Candle Holder
Candles are a great way to create a cozy vibe and intimate setting for your holiday dinners and parties. 
Our Candle Holders come in two different styles, with varying heights each-- so you can elevate your table setting and wow your guests.
Final Thoughts
Eliminate some holiday stress by buying gifts and preparing your decor way ahead of time. This way, you can focus on what matters, which is enjoying valuable time with friends and family.
Hopefully, this list sparked some holiday inspo and got you excited about all the good food and good times ahead. We know we're excited about everything to come in the next few months!