Keeping Wicks Forge Sustainable and Affordable: How We Turn Waste into Product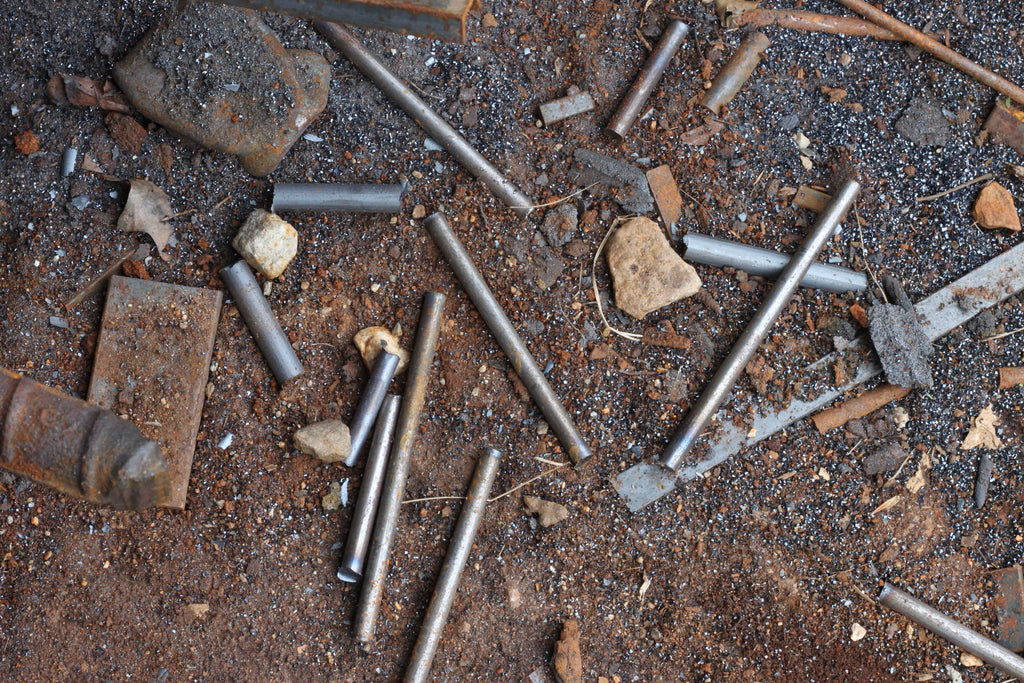 There's usually a catch 22 when it comes to being an environmentally conscious consumer: products that are made sustainably-- with recycled materials or renewable resources-- are usually very expensive. 
The sustainable option is not always financially sustainable for the consumer. This makes it difficult to reduce the overall impact we're having on our planet, and funnels more support to big corporations who usually don't have sustainability in mind.
Our Mission 
At Wicks Forge, we believe that we should be repurposing waste into beautiful, yet functional items for the home and garden. We celebrate the ability to look at something that would otherwise be disregarded as trash and reimagine it. Many of the products we sell came from unique beginnings, and now we are passing the story on to our customers.
We see our shop as a mini-ecosystem. We produce products from raw materials and create by-products of that production in the form of scrap pieces, and steel cut-offs. But, like a closed ecosystem, we are constantly looking for ways to turn the "waste" of any given production process of our business into the input for another product line. This philosophy helps in reducing our environmental impact, saves us material costs, and helps bring down the bottom line for our customers.
Just because something is handmade, and done so sustainably, doesn't mean it should break the bank. For true sustainability and local production to be a viable option for all folks-- not just folks with deep pockets-- we work hard to combine our environmental ethic with efficiency in production. This helps us create meaningful products made by hand that are affordable for everyone.
Using Salvaged Materials to Inform Design
During a winter freeze several years ago I had a burst pipe on our farm. When the plumbers replaced the pipe, they left the old pipe behind. I'd already been using copper pipe to make bracelets so I took the old piece into the shop intending to use it for that. But as I started to work the copper I saw that years of water passing through the pipe had created a beautiful natural patina on the inside. A galaxy of greens, blues, reds, and yellows littered the surface. Natural processes created a more beautiful canvas than anything I could create with my hand tools. Since then, I've gathered old pipes whenever possible, using them to create these unique pairs of copper earrings. Each piece of copper tells a different story of years in making, depending on their age and time in use, as well as the type of water passing through their lines. 
Using Scrap Materials to Inform Design
Metal comes in 20 foot lengths which we cut down into 4 foot lengths so they are easier to handle in the forge. As those 4 foot lengths get turned into products, the length of the remaining steel gets shorter and shorter until we are finally left with a "waste" cut-off that can be anywhere from a few inches to about a foot. 
For production runs of pieces, we might use 20 of these 4 foot lengths and then end up with 20 cut-offs of roughly the same size. Wanting to save these cut-offs from being thrown out, we started sorting the scrap pieces of steel by size and lengths and designing products that can be made with these materials. Our key racks, for instance, are made from our longest cut-offs. We use the mid-size cut-offs to make leaf hooks, and our smallest cut-offs to make wall hooks. 
No piece left behind
Even during the design process we are cognizant of minimizing waste. As we experiment with different forms that will eventually join our standard product line, we end up with many beautiful pieces that may not look like our "standard" product photos or are too time-intensive to be a viable production piece. 
These one-off pieces get saved and become part of our inventory for in-person craft fairs. We love them because they are truly one-of-a-kind, and customers can walk away knowing they purchased something that no one else has.
Shop Small, Shop Sustainably
When you buy from a small business like Wicks Forge, you can easily find out where the materials come from and who is making your piece. There are no secrets to how we run our business, and we love using our social media and newsletter to let our audience in on the process. We've made it our goal to keep our products affordable, source locally, and reduce our waste by repurposing scrap and salvaged materials to bring you beautiful and long-lasting items you'll love-- so you can shop with peace of mind. 
We know the joy our customers feel when they reach out to us and an actual human being responds back, or when they open their package and see a handwritten note, letting them know how grateful we are for their business. When you support our small business, you become part of the Wicks Forge family, and we know that the items you purchase can be passed down in your own family for generations to come. 
If you have any questions or comments on how we stay sustainable, let us know below! We would love to have a conversation about the impact our small business is having, or hear about your experience with our products.